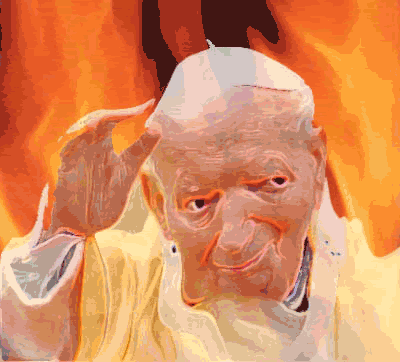 Unfortunately, this is the end for all who reject the Gospel of Christ. It does not matter that Karol was a great guy, spoke multiple languages or strove to defeat communism. He led his life in service to a false and dangerous religion.
The only salvation comes through Jesus, not a church.
John 14. 6 says, "
Jesus said to him,
'I am the way, and the truth, and

the life. No one comes to the Father except through me.'

" (ESV)
And

Acts 4.12 says, "
And there is salvation in no one else, for there is no other name under heaven given among men by which we must be saved.

" (ESV)
It is not through the Roman Catechism, not through indulgences or the Romanist institution. It is through Christ alone.
When Benedict (real name: Joseph Ratzinger) said the Romanist church was the only true church, his word was another in the line of a great deception. His declaration leads people to hell. Mr. Ratzinger: REPENT! Romanists, REPENT! Or hell awaits. No joke. No game. It's reality.
"You serpents, you brood of vipers, how are you to escape being sentenced to hell
?"

(Matthew 23.33 ESV)